Choosing the right hosting site for your podcast may be challenging whether you are a beginner or a seasoned podcaster. After all, there are so many different hosts to pick from and so many criteria to consider. And that adds stress and time to the selection process.
To spare you the trouble, I've written this Podbean podcast hosting review, which will save you time and effort as well as provide you with helpful information about this host.
So, what can this service offer you? Podbean is a comprehensive yet simple podcast hosting solution that not only stores your program but also assists in its distribution, promotion, and monetization. It has been in the podcasting game for over ten years and is used by over 600.000 creators, including market giants, e.g., IBM, Hoover Institution, Paychex, and others. The platform delivers everything you need for effective podcast administration, including both basic and advanced technologies (thorough statistics, live streaming, dynamic ad insertion technology, and more).
If you're still unsure and having trouble deciding between Podbean and other hostings, keep reading this article for in-depth information and my guidance.
Files and formats
Podbean's free plan is limited to supporting.mp3 and.m4a files, while higher-tier subscriptions enable users to upload nearly any type of file – many serious podcasters love this!
Metrics and statistics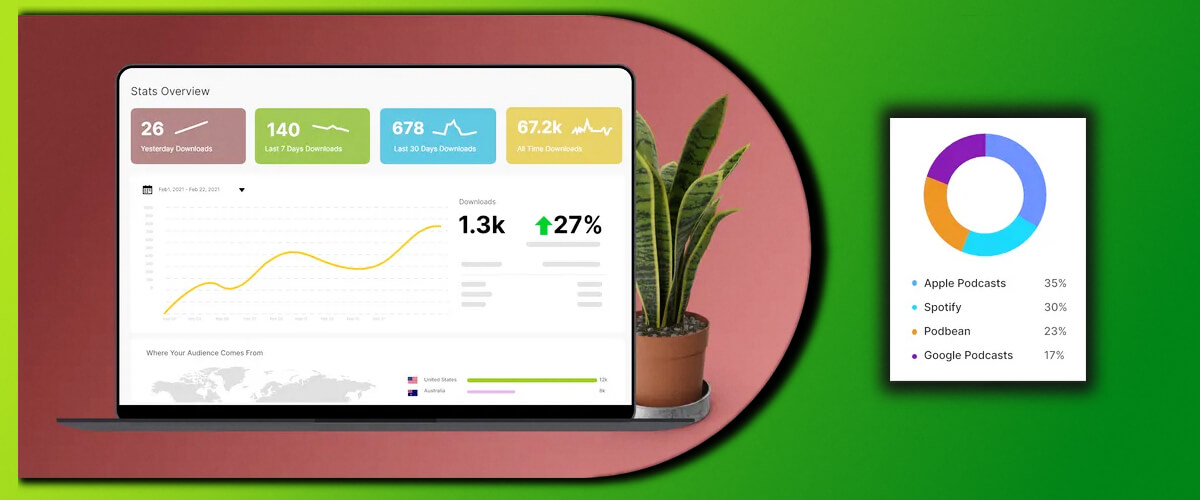 You should have a deeper understanding of your audience and your podcast's performance patterns in order to develop it effectively. Fortunately, a complete set of metrics is offered by all Podbean subscriptions.
To begin with, this service provides IAB-certified analytics, demonstrating compliance with all industry standards. You'll get comprehensive statistics about your audience, the most popular episodes, listeners' locations, and downloads by the time of day.
Additionally, Engagement Intel is available as a standalone platform add-on. It reveals if listeners stop in the middle of an episode or finish it. Note that the free plan does not include these reports.
Distribution and directories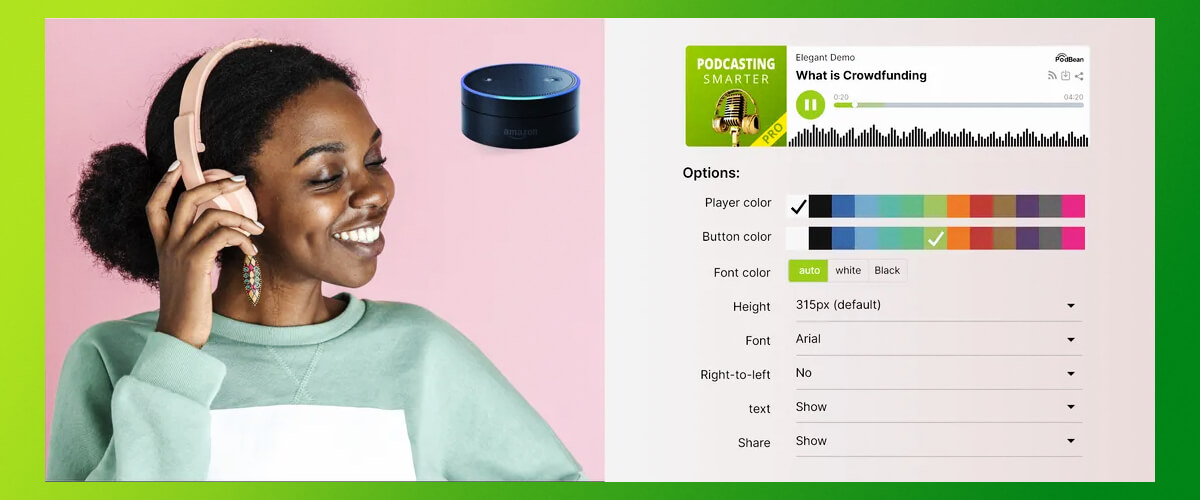 Through the RSS feed, Podbean manages podcast distribution with ease and connects you to all major streaming services, including Spotify, Apple, Google, Amazon, YouTube, etc. All submissions must be made once, and they are all free. Additionally, you may arrange your episodes according to their numbers when you submit them. If you have a serial show, you'll especially enjoy this option!
Promotion
Audio player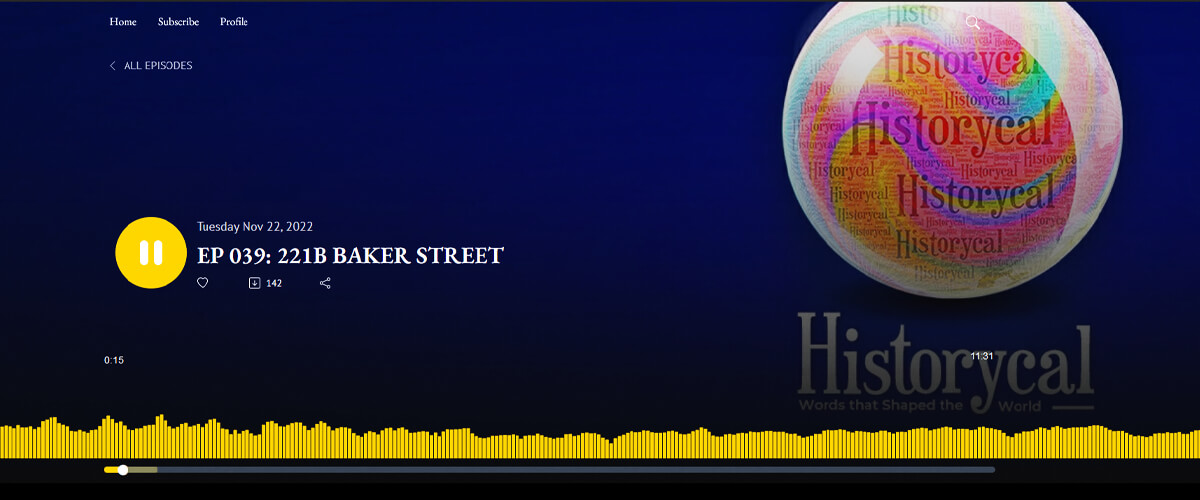 All of Podbean's tiers come with basic but appealing and user-friendly media players. The player is simple to integrate on your site and link to a single episode, several tracks, or a video podcast. It is also completely customizable, making it simple to alter how it looks.
Website
Your website is a crucial part of your brand's recognition since it serves as a central hub for all of your material, facilitates communication with your audience, and helps you to grow your business.
All of Podbean's paid plans come with a free, fully customizable website. Each of the designs is mobile-friendly and works with custom domains, so you may pick one that suits the subject matter of your podcast. There's also an option to have the site alert you whenever a new follower or comment is added.
In my opinion, Podbean, in this aspect, has managed to create a perfect combination of attractive aesthetics (design) and quite powerful functionality.
Promotion tools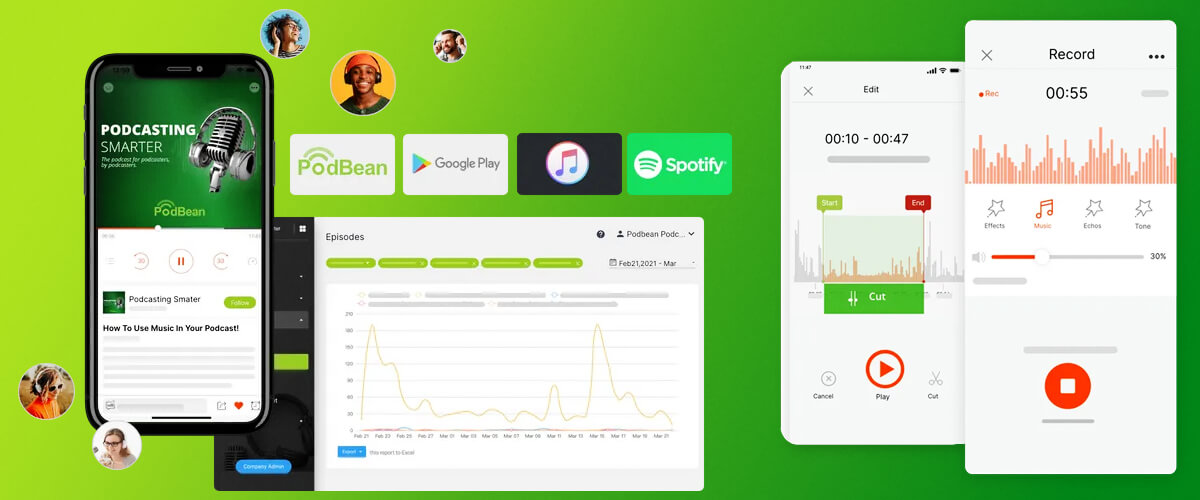 To increase your podcast's visibility and audience, you should use the following tools provided by Podbean:
Podbean Facebook page – here, you can meet other creators and introduce yourself. This makes it much easier to promote your program and look for cross-promotional opportunities.
Cross-promote your podcast by placing sponsored advertisements on other shows that share your genre. By doing this, you'll have access to another program's downloads and subscription base.
Promote your show on the Podbean app to increase listenership. Your brand will be prominently displayed on the banner spanning the top of the Podbean app's homepage, increasing awareness of it among users.
Sharing
There are at least three ways to share your episodes on Podbean. First off, the system will automatically share your material on several social media sites, including Twitter, Facebook, Tumblr, and YouTube. Second, integrating Podbean badges will drive viewers to your podcast website. Thirdly, let your fans know about new posts and episodes by using Podbean's Mailchimp integration to send newsletters. Personally, I enjoy sending emails to my dedicated audience. This way, I can provide extra content to them, such as behind-the-scenes information or podcasting advice.
Other features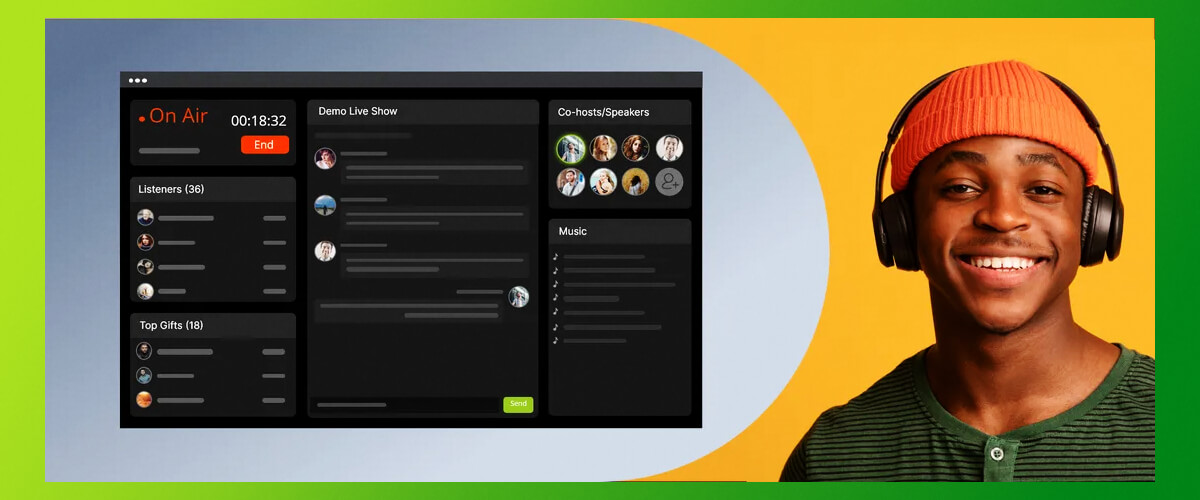 I like Podbean because it has a lot of useful features that set it apart from the competition. Here are a few of my favorites:
You may easily manage your episodes with the help of a mobile app, record them directly from your phone, or upload already-made content. Additionally, it is simple to locate and watch shows produced by others.
The Business plan includes a private podcasting feature that may be used to distribute internal emails, communications, training videos, etc. Discrete data is shielded from prying eyes by enterprise-grade security software. Additionally, a dedicated Podbean Pro App is offered so corporate users can access secure audio and video podcasts regardless of where they happen to be.
Transcription and closed captioning tool helps improve the podcast's search engine optimization and ensures that the content is easily accessible.
Live audio streaming allows you to have a direct conversation with your audience in real time. Share "unfiltered," "raw," but unique content with people!
Although few podcasters actually include video in their shows, the option is always welcome. Unlike its many competitors out there, Podbean offers video uploading and hosting.
Podbean lacks an API, which is disappointing; however, it's a minor disadvantage in light of the benefits it offers.
Get money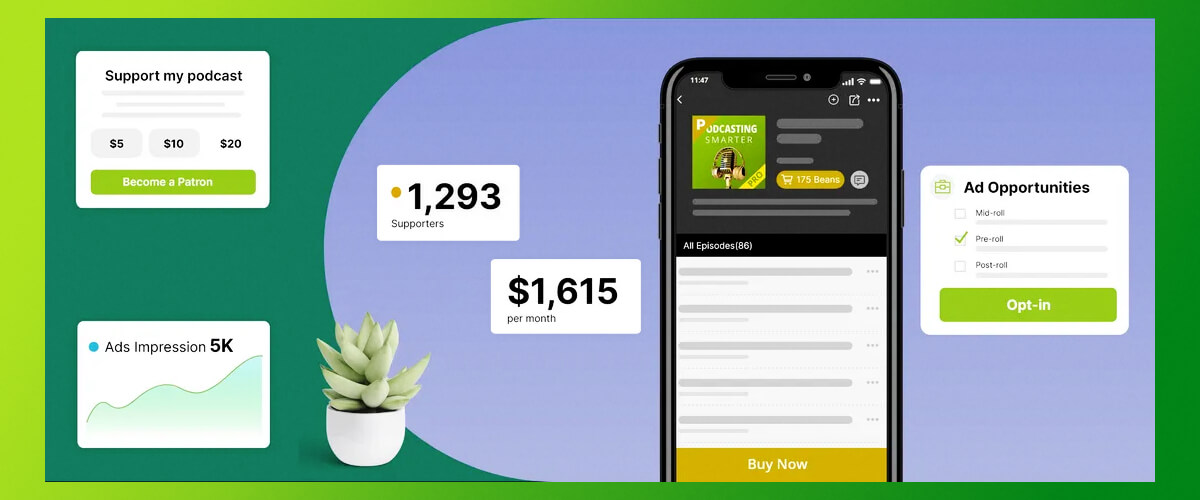 If you have a paid subscription, the Podbean podcast platform offers a few solutions for generating revenue from your podcast. Here are some options:
PodAds – you may create and manage your own ad campaigns using DAI (dynamic ad insertion). Podbean also has a unique Geo Targeting tool, allowing you to run adverts that target certain geo-locations
Ad Marketplace – By signing up for Podbean Ad Marketplace, you will be eligible for sponsorship and have access to several advertisement options. The ad durations are completely configurable, and you may unsubscribe at any time.
Patron – it is Podbean's answer to the Patreon service. Through Patron, your fans can pay you money every month in exchange for "rewards," which can be anything from exclusive content to virtual gifts based on how loyal they are.
Premium Podcast – with this option, you can create a unique channel that users will be able to access for a one-time cost.
Premium podcasts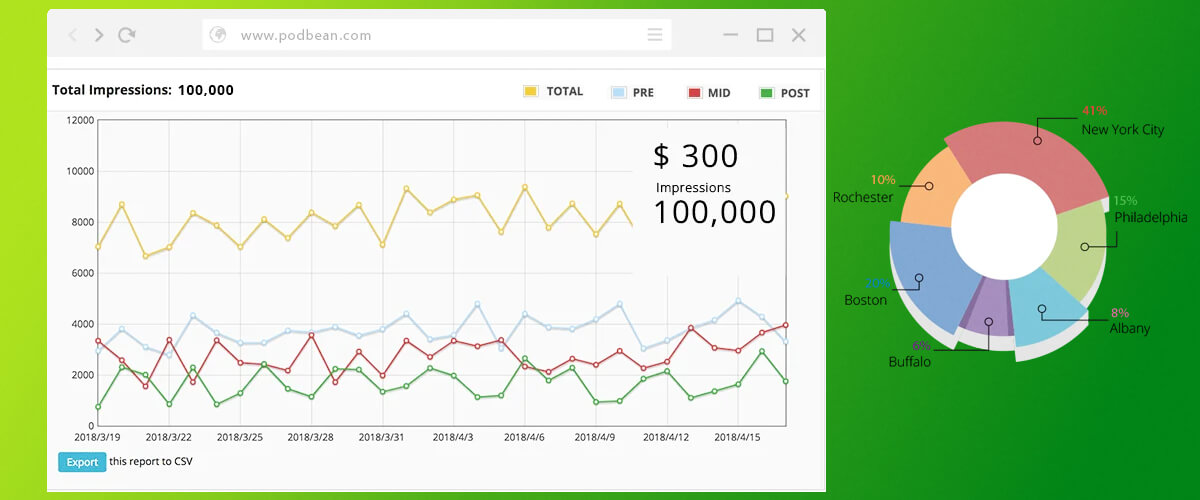 Premium Podcast is Podbean's unique monetization tool that distinguishes it from rivals.
Premium Podcast allows you to monetize your show by charging listeners for access to exclusive content. Your patrons will enjoy extras, such as bonus episodes, private forums, etc.!
Pricing options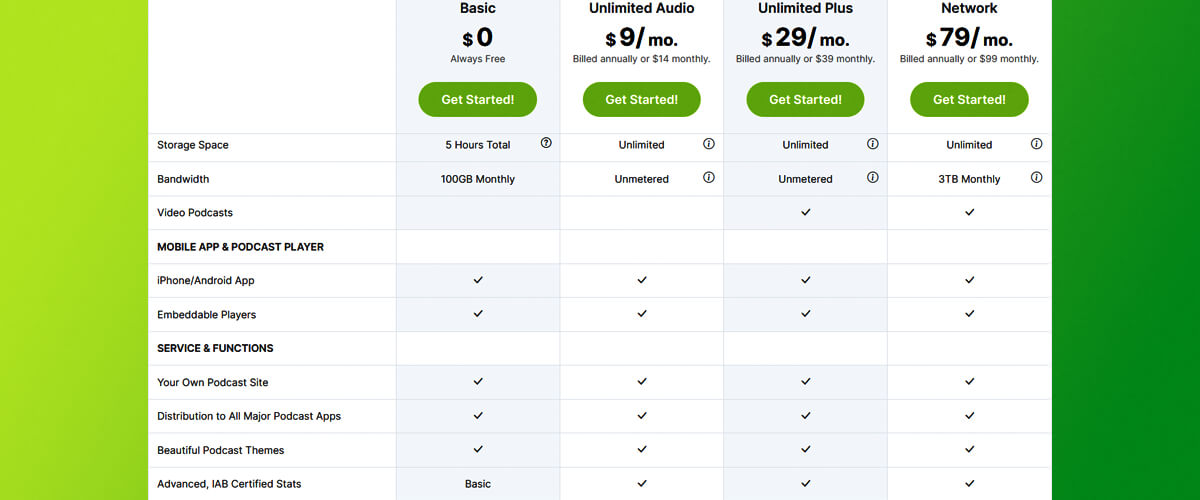 The pricing levels offered by Podbean cater to all types of podcasters, from amateurs to experts. Here's a brief description of the different levels:
Free basic plan

This plan gives 100GB of monthly bandwidth and up to 500MB of storage space, which translates to 7–10k downloads. Additionally, it has resources for creating a website specifically for your show, a mobile app, a media player, and essential metrics. The free plan on Podbean will give you practically everything you require to get started if you're a beginner with a modest following.

Unlimited Audio plan – $14 per month or $9 per month if paid yearly

This plan is ideal for individuals who have already achieved something and want to reach the next level. You'll get unlimited storage and bandwidth, a mobile app, a web player, a website, powerful custom design, sophisticated metrics, a plethora of podcast channels, and three of four revenue tools.

Unlimited Plus plan – $39 per month or $29 per month if paid yearly

Are you interested in making money with your program now that your following is growing so quickly? Then consider the Unlimited Plus plan! Everything from the previous plan is included, as well as the ability to make videos, access completely personalized design, and all monetization choices.

Business plan – $129 per month or $99 per month if paid yearly

This tier is designed for enterprises and organizations, as the name indicates. In addition to the capabilities of the Unlimited Plus package, it offers specialized customer care, a pro app, unlimited logins, and comprehensive engagement data. Furthermore, this is the only plan that allows for removing Podbean branding.

Podbean Pro – contact customer service for the price

This plan will be perfect for major organizations that wish to upgrade their corporate communications using audio and video podcasts. It delivers full security, seamless accessibility for personnel, comprehensive analytics, and 24/7 customer support.
Summing up
Concluding my Podbean review, I'd like to emphasize that this platform has taken one of the leading positions in the podcasting industry. For a good reason – it's reliable, easy to use, multifunctional, and targeted at different groups of users.
When compared to similar platforms, this one looks modern and feels gorgeous. You may launch your show here and successfully expand it using many professional-grade tools and features.
We are supported by our audience. When you purchase through links on our site, we may earn an affiliate commission at no extra cost to you.
Our newsletter
* We will never send you spam or share your email with third parties