The wrong podcast hosting platform can seriously affect the success of your show. So, it's wise to spend time and carefully choose the right home for it. I've created this Blubrry podcast hosting review so that you can learn more about all the features available on the host, as well as its advantages and disadvantages.
With more than 16 years of experience in the podcast industry, Blubrry is widely regarded as one of the top hosting services. More than 125.000 creators are pleased with Blubrry's affordable plans, powerful tools, and excellent customer support. It also collaborates with prominent web hosting services, such as Headliner, Triton, and DreamHost, to deliver modern technologies and capabilities. Moreover, Blubrry provides numerous integrations with different instruments (for example, WordPress websites), making it simple to launch and run your podcast.
Want to learn more about the platform? Then keep reading this Blubrry review!
Files and formats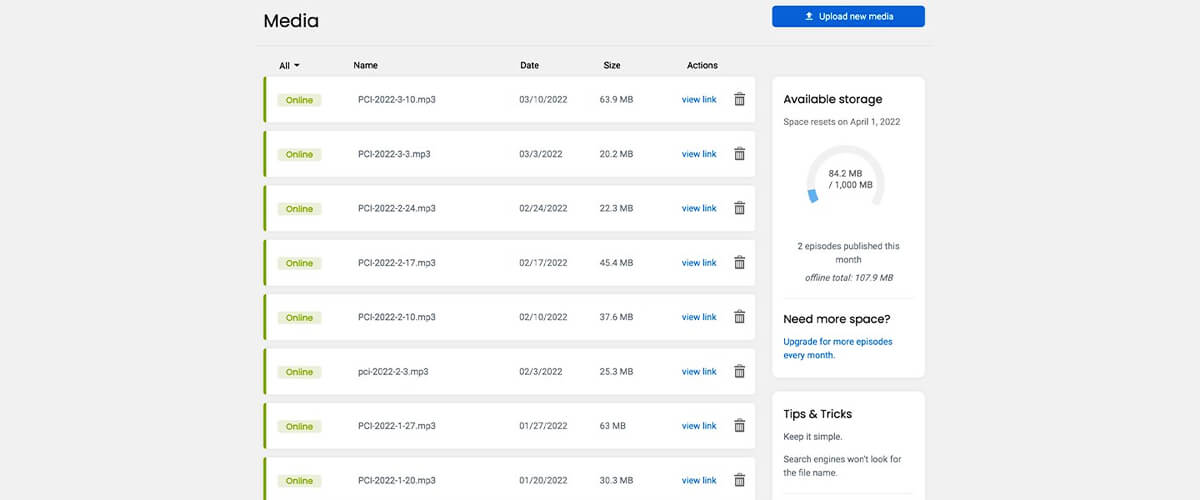 You can upload nearly any kind of file to Blubrry; however, for optimum distribution, they advise going with.mp3.
Metrics and statistics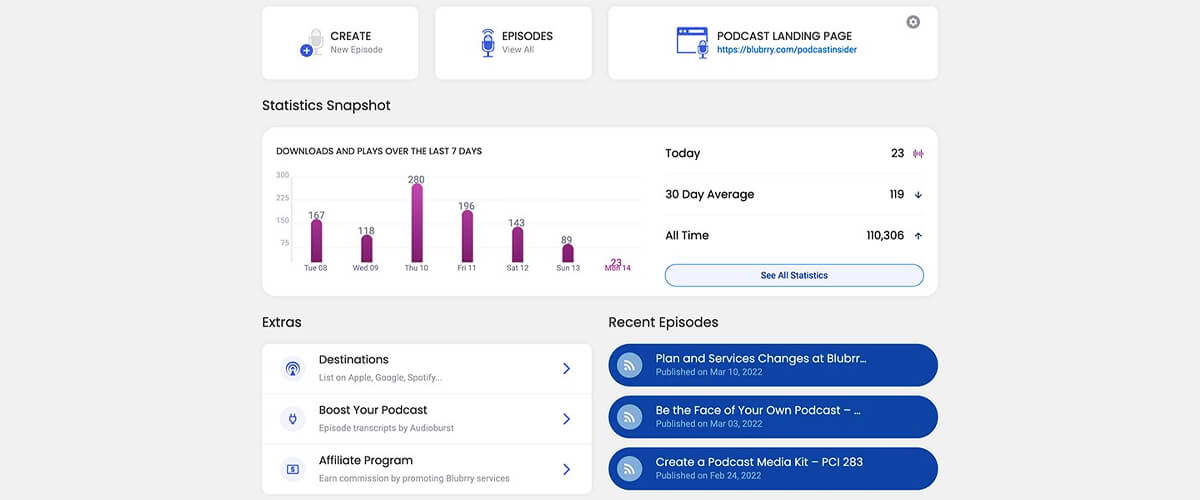 Without adequate analytics and data, attempting to produce and promote a podcast is like putting the cart before the horse! Luckily, Blubrry metrics and stats have plenty to offer!
Firstly, this host is IAB-certified, which means it offers a thorough insight into the audience so that creators can make informed decisions about advertising and revenue. Secondly, the available metrics provide podcasters with all the information they could possibly need, including specific download totals, play stats, listener trends, listener location, OS demographics, and more. Thirdly, all data is available for download as PDF reports for simple distribution.
The "Podcast Statistics" section on Blubrry makes it stand out against many competitors since it's extremely user-friendly. It is accessible from the main dashboard and contains a number of reports that show you info grouped by episodes, dates, and other criteria. The material is extensive, yet it is presented in a clear, intelligible manner, with pictures to help you comprehend what you are looking at.
Distribution and directories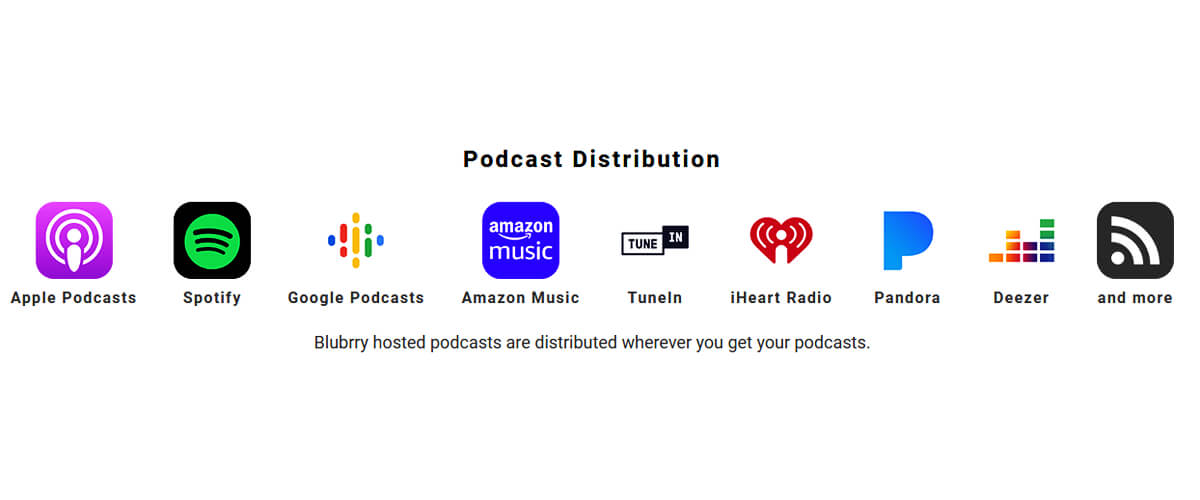 All high-quality hosting platforms include podcast distribution and directories as a standard feature. But Blubrry has upgraded its directory, boasting that it now includes over 3.000.000 shows! There is no need for manual processes if you use Blubrry and its Show Destination tab – your episodes will be immediately added to all major podcast streamers (Apple Podcasts, Google Podcasts, Amazon, Stitcher, Spotify, etc.).
Promotion
Audio player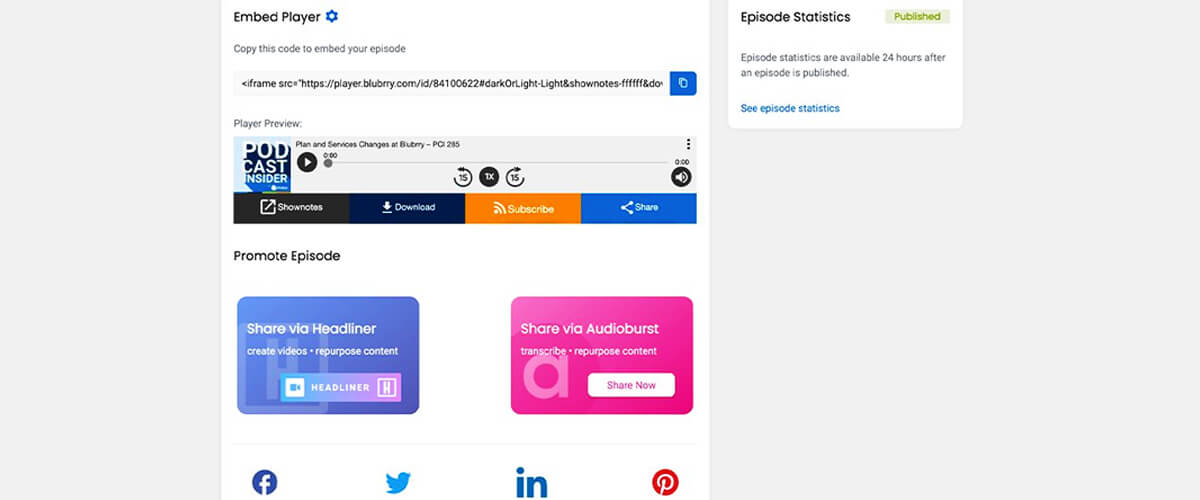 I like Blubrry's player – despite its simplicity, it provides all of the essential functions you'd expect from an embedded player. In addition, it will be accessible via your WordPress website, Blubrry's directory, and the emails you send to your subscribers.
The player can only be used to listen to episodes and watch show information, not videos. You'll also be able to customize its design to match the branding of your show. And last but not least, the player includes a subscription button for services like Apple Podcasts, Google Podcasts, TuneIn, and others.
Website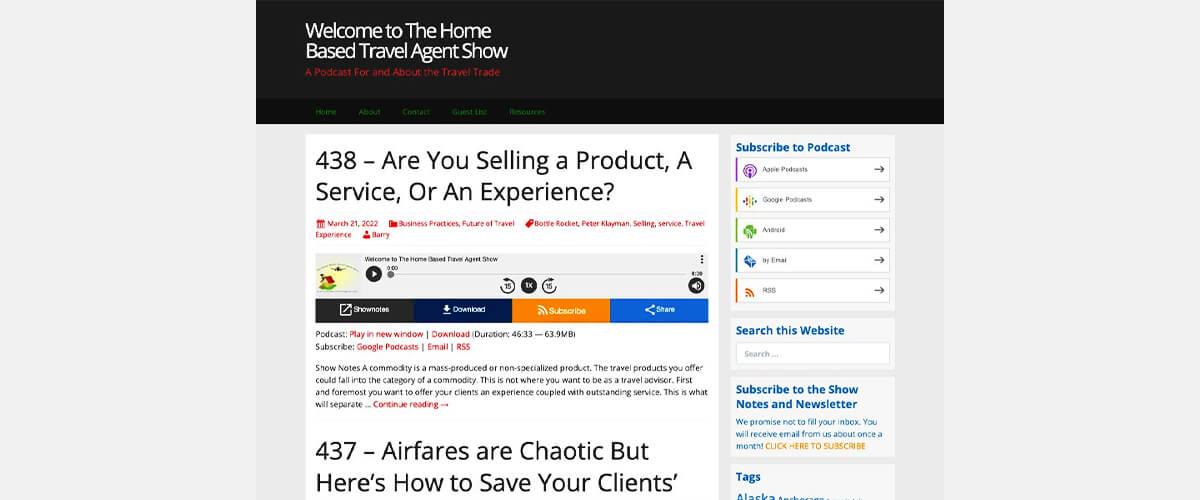 I think that all podcasters need to have a website. It will assist you in growing your listenership, effectively promoting your program, and acting as the central resource for anything podcast-related.
Blubrry exceeds many of its rivals by providing a WordPress site that is free and accessible to all tiers. Furthermore, such a website will be fully prepared for your presentation since Blubrry regularly backs it up, upgrades plugins, handles security and makes sure everything functions as it should.
Sharing
Blubrry podcast hosting features an excellent newsletter solution that allows you to keep your loyal followers up to speed on your most recent episodes. Furthermore, they make it simple to share your episodes on social networking platforms such as Facebook.
You may also give access to publishing and analytics to your teammates or sponsors through an email invitation. Strengthen your team by assigning individual members specific responsibilities for your podcasts using this handy tool.
Other features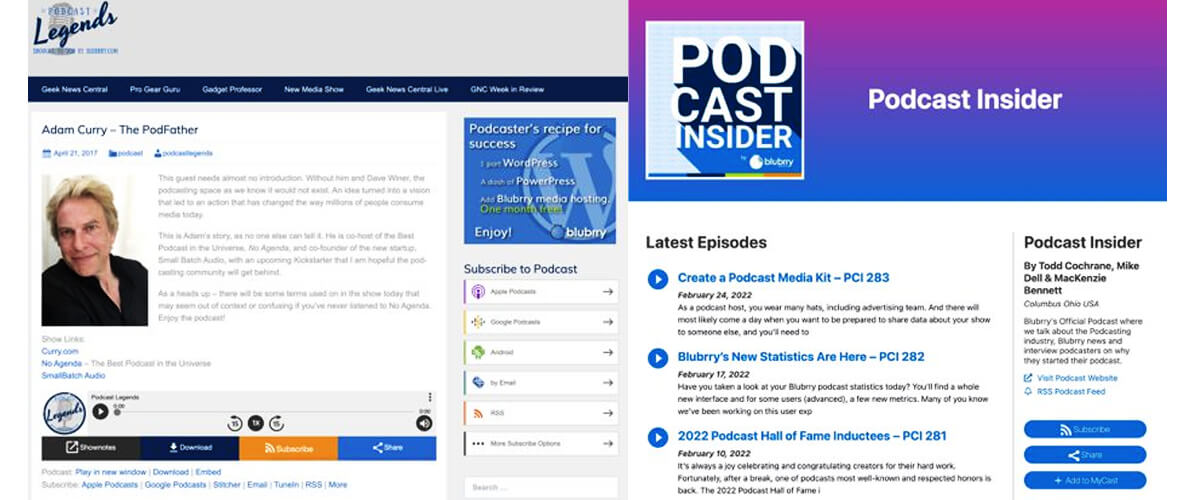 Blubrry podcast platform may brag about a number of helpful features and tools, and a few of them actually set it apart from the competition. Here they are:
PowerPress WordPress plugin – allows you to share episodes with any WordPress-powered website easily. The plugin is pretty robust – it can handle several RSS feeds and a wealth of other valuable tools, making it simple to interact with your stream directly on WordPress. However, bear in mind that if you're unfamiliar with WordPress, it may take some time to learn how everything functions. But it's well worth it!
Blubrry API (Application Programming Interface) – it is a fantastic solution that helps to boost the platform's potential. You'll have quick access to all of your podcast info, including metrics, feeds, and episode files. The API may also be used to build original Blubrry-compatible programs.
Podcast Channels feature – if you use the Blubrry PowerPress plugin, you can also try this function to produce audio and video material, maximizing your visibility across all platforms.
Blubrry has a number of security features for internal private podcasts to make sure that your content is completely safe.
Simple migration – you'll receive a free 30-day service with email and phone assistance to move your media files.
Blubrry provides technical support to all of their customers – managers are available by phone or email, and with the Pro plan, even via video conference!
Get money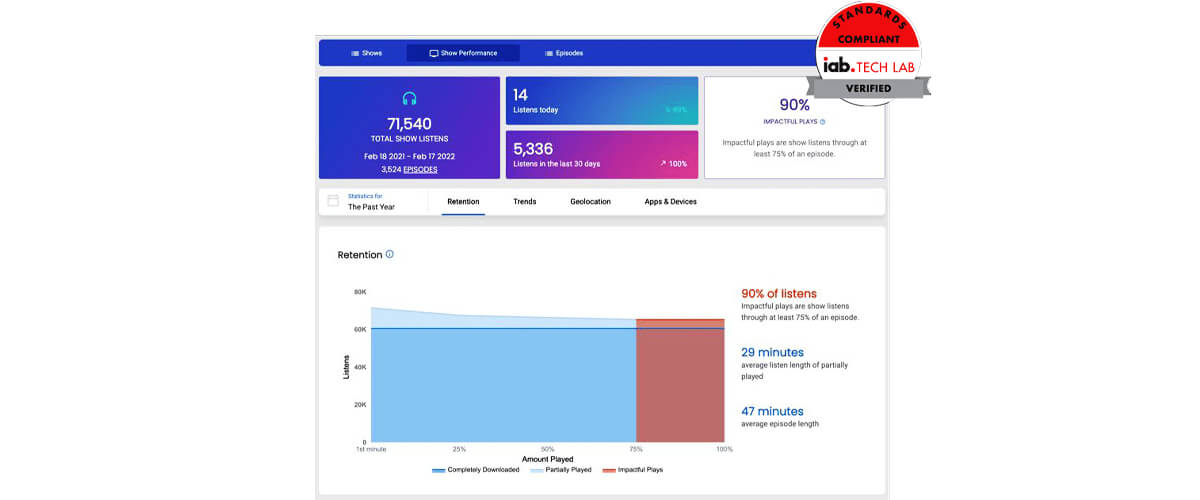 Of course, you are in the podcasting industry because you like it, but having financial strategies does not hurt.
Blubrry excels in comparison to some of its competitors by giving podcasters a variety of ways to monetize their content:
Take advantage of Stagepass, an exclusive Blubrry tool, to auction off your activities and experiences to your fans.
If you are on the Pro plan, you can use Pre-roll ad insertion.
Think about the pre-, mid-, and post-roll ad insertion options – they are available for an extra fee.
Join the Blubrry affiliate program and start earning money by advertising the company's services.
Pricing options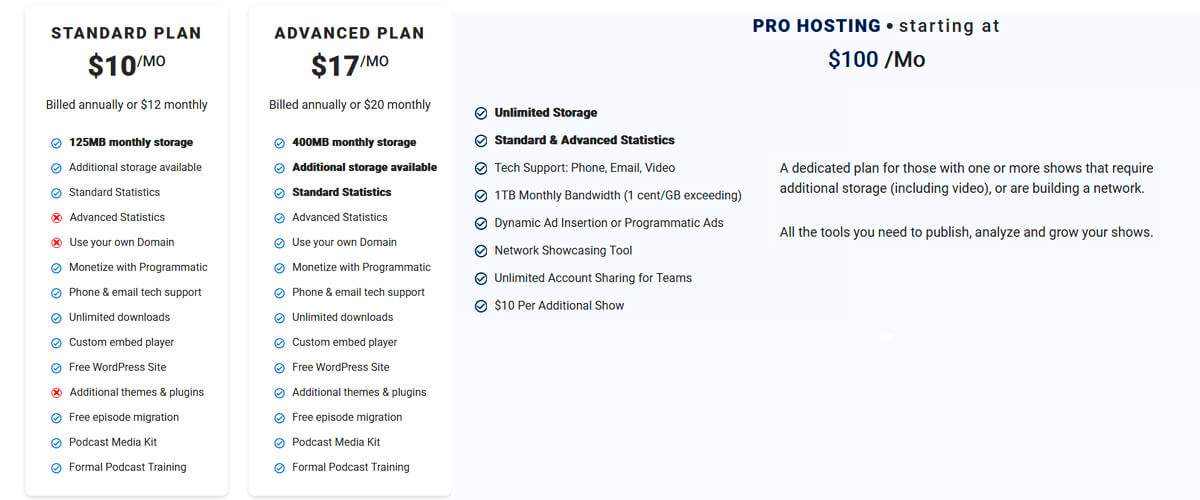 Blubrry has three different pricing tiers (Standard, Advanced, and Pro) to meet the needs of both novice and seasoned podcasters.
Every plan comes with unlimited downloads and bandwidth, basic to advanced statistics, a customizable player, a WordPress website, and free migration. The amount of storage you can upload monthly varies depending on what kind of membership you have. However, keep in mind that it resets every month. I appreciate that all tiers come with "No-Fault Podcast Hosting," which means there are no additional fees unless you use more storage than is allowed each month by up to 25%.
If you're ready to expand, think about upgrading to the Advanced plan. It includes features like sophisticated analytics, domain mapping, custom themes & plugins, and DNS management for show growth and better audience understanding.
The Pro plan might meet your demands if you're an experienced podcaster with your own team and want to generate a big dollar from your program. This plan provides a network showcasing tool, free account sharing for teammates, and dynamic advertisement insertion.
The icing on the cake – Blubrry enables companies to distribute private, encrypted audio and video podcasts. It means you can only share your exclusive material with a certain group of people.
The only thing I dislike about Blubrry's packages is that only Advanced and Private Podcasting plans have free trials, while new podcasters, who really need to test the waters, have to pay at least $12 to start using the platform.
Summing up
Millions of creators, including me, adore Blubrry for two key reasons. Firstly, it offers all the resources you would need to start and develop a successful podcast in one convenient place. For example, one of my favorite features is the PowerPress WordPress plugin – using it, you can simply make the show of your dreams. And secondly, Blubrry, which is headquartered in the United States, is an exceptionally dependable podcast hosting platform with a solid history, so there is practically no chance that it will disappear any time soon.
To sum up, if you want a reliable and feature-rich podcast hosting platform, then Blubrry may be the one for you.
We are supported by our audience. When you purchase through links on our site, we may earn an affiliate commission at no extra cost to you.
Our newsletter
* We will never send you spam or share your email with third parties